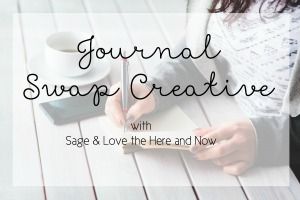 I have a strange obsession. Those of you who are regulars in these parts may know this already but I have an obsession with stationery especially journals. I have countless journals. I cannot pass up a gorgeous or inspirational cover. I have a real problem. So when I heard about the Journal Swap Creative with
Sage
and
Love The Here And Now
I was in. I love receiving mail and I love journals win, win!
I was paired with the lovely Kayla from
Keeping Up With K.
This Canadian beauty has a fun and eclectic blog that you definitely want to check out. I am so glad we were paired together because not only did I receive the fabulous journal photographed below but I have an amazing new blogging buddy whose life I can stalk regularly through her blog. ;)
Love this!!!
Loved this little note in my journal!
Now I truly love this journal but let's hope I actually use it. This is where I explain to you my really strange habit. I have this obsession with collecting journals but I NEVER write in them. I have so many journal ideas. But I hate to "dirty" my nice new journals. I am afraid I'll start writing about one thing and then want to change the direction of the journal and then it will be all out of wack, etc., etc. I know I apparently have issues. OCD or something.
Does anyone else have a ton of beautiful unused journals or am I the only weirdo? xoxo