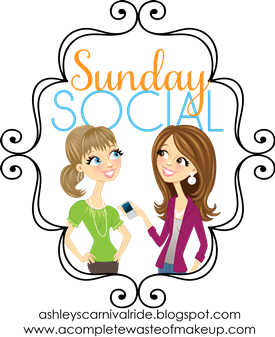 Hello! I have decided to participate in this week's Sunday Social after become a bit stalkerish to one of my new favorite blogs,
A Complete Waste Of Makeup
. Here I go!!
1. What is your all-time favorite song?
Oh gosh, this is a tough one but I think it has to be Shoop by Salt N Pepa. Mainly because it is my ultimate fave to sing at karaoke. I know every word by heart. Quite sad I know.
My friend Michelle & I singing Shoop I am sure. Yup....

2. Who is your favorite singer/band?
No idea...Love many...A couple of my faves are: Kelly Clarkson, Carrie Underwood, Goo Goo Dolls, Maroon 5, Destiny's Child, Boys II Men and Nickleback to name a few.

3. What song reminds you of your childhood?
There are many. Different ones from different periods of my childhood but I'd have to say Light My Candle from Rent. That's pretty bad, huh? I was obsessed with being a Broadway star and I used to sing and "act out" this song for my family all the time. It was quite a hit. Haha..

4. What songs put you in a good mood?
There are many of these but Pour Some Sugar On Me by Def Leppard always gets me singing and dancing around. Ultimate party song!

5. What is your music to rock out to in your car?
I'll rock out to anything from Broadway, to pop, to rock...I'll rock that s#%$!

6. What is the most embarrassing album or song you own?
I still own my Kris Kross cassette. I don't know why because I don't have a cassette player but for old times sake. Jump, jump!!
As you can see from my taste in music, I am just a fun loving girl who likes to have a good time. You definitely want to party with me. Heehee....