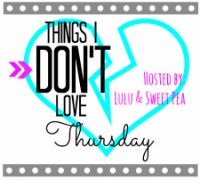 Let's see..what am I not loving this week? This week's edition for me is somewhat superficial but hey sometimes little things can really irk you..
1-
Why is getting lunch from a deli so damn expensive?!
The other day I got a bologna on a roll (plain with nothing else on it), a small bag of chips and a small bottle of Pepsi and it cost me almost $11!! I knew going to the deli that is was going to be expensive but what really angered me is that when I got back to work, whoever made the sandwich did it in such a way that there was only bologna in the middle and the outside was all bread. Really?! $11 for that! Ugh!
2-
Okay so why do retail establishments insist on having one register open when there are other employees standing around?!
I was at a dollar store yesterday and the line was like 10 people deep and they didn't open another register and because it was a dollar store everyone had a million things to buy! Good thing I was semi patient because usually I would just leave and forget about buying the stuff. I know, I know I need to work on my patience. So aggravating though!
3-
Teachers complaining on Facebook (and everywhere) about their summer vacation ending.
Teachers, please take note, nobody feels bad for you except other teachers. We all get a measly 2-3 weeks vacation for the entire year so the common folk do not feel bad that your 8 week + vacation is ending. Suck it up! Love you guys! ;)
Well enough complaining...Here's my daughter "ROAR"ing!! Love my little crazy girl!! xo
Love this girl!