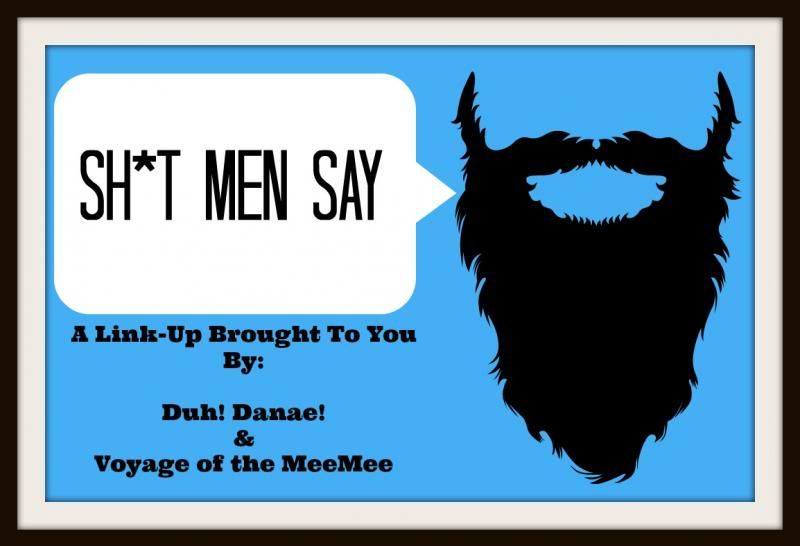 This is my first time linking up to "Sh*t Men Say" and I am stoked. I think I have a pretty good story for you guys. Hope you enjoy!!
This goes back to my college days, long before I met my hubby. There was this one guy in my class who would kind of flirt with me and he always seemed nice. One day he finally asked me to go out on Friday night. I decided hey, why not? And told him sure. He said he would call me Friday afternoon to set up all the details.
Friday rolls around and sure enough he does call. I ask him, "So what do you want to do?" And his response: "It doesn't really matter but I am just trying to get fuc*ed by the end of the night, so whatever you want." I am pretty sure I just hung up at that point all I know is I obviously didn't go out with him or talk to him again.
WTF?!! Was this guy serious?! Even if those were his intentions there was no way in hell it was going to happen with him being so blatantly forward about it. The thing that got me even more was that he was kind of chubby and not really good looking and I was a pretty, thin, smart girl during my college years. It was definitely a step up for him so it was strange he wanted to ruin all chances with that comment. Now please don't think I am that superficial (because I said yes to the date) but I was baffled that this guy, who was a step down for me (who I was willing to give genuine chance), would blow his chances with me like that.
What about you guys?! Did you ever have a guy tell you his "true intentions" before even going on a date?