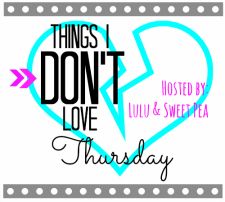 I have a lot to be thankful for and I love my life but I love the idea of having one day to gripe about the things I don't love. That's why I decided to join in on
Lulu and Sweet Pea's
"What I Don't Love Thursday."
Here I go:
* I hate the fact that we will need to wait until 2014 for the next season of Game of Thrones!! This is torture. I am going out to get the books so I don't need to wait. The suspense is killing me!
* I am upset at the fact my daughter refuses to fall asleep until around 2am every night lately. She slept so good right from the beginning and now at 16 months we are having huge sleeping issues with her. We've tried every tactic for fixing this issue and don't know what to do. Anyone else have this issue with their toddler?!
* I definitely don't love packing!! We are moving out of our apartment into a new home and it is stressful to say the least! My hubby and I are so busy with work and have a very rambunctious toddler so we have limited time to get our place all packed up. I'm sure we'll get it done but I cannot wait until this whole process is over with.
Now that I got all that off my chest I hope everyone has a terrific Thursday and has very little things not to love.