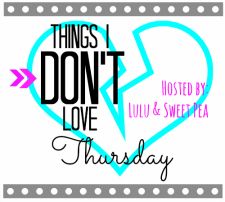 It's that time of week! Time to share something I don't love and at the moment that particular thing is swans!! I used to love swans because they are so pretty and majestic but now I realize they are just plain nasty! When we used to go to the park with our dog, every time we got close to the water they would come towards us squawking in a confrontational manner so we always steered clear of them.
Well today my dislike turned into hate when two swans and their baby approached my daughter ready to attack her innocently sitting on our beach towel. My daughter and I were at a small private beach and she was playing on her beach towel with her back to them, completely unaware of them. I watched them swim towards us and then get out of the water. No big deal, I thought. We were just minding our business and were originally nowhere near them. They proceeded to approach us and at first I thought they would veer away but one got scarily close to my daughter and raised it's wings and neck, looking ready to attack. I had to swoop my daughter up and yell at the swans until they went back into the water.
Swans are just nasty creatures and I definitely don't love them. What about you? Have you ever had a confrontation with a swan?
My daughter minding her business




Here they come. On a mission!
Too close for comfort